Worldwide- Shipping & Returns
SHIPPING & RETURNS
Once your order has been processed and shipped, you will receive a confirmation e-male. Once your entire order has been dispatched, we will e-mail you a tracking number.
Shipping will be via DHL express\ FEDEX\ UPS.
All our products ship from Israel to the destination of your choice around the world.*
Your delivery will be shipped to your specified address within 3-10 days. 
**International delivery times may vary, mainly if shipments are subject to customs and duty procedures beyond our control. Customs and import duties are charged once the parcel reaches its destination country. The recipient of the parcel must pay these charges. 
* except for countries that do not have trading agreements with Israel. Due to last events, until further notice, shipping to Russia and Ukraine may be charged with additional charges and in some cases may be refused.
SALE ITEMS / SAMPLES cannot be refunded or exchanged.
FOREIGN TAXES AND DUTIES
The prices on the website include shipping costs but does NOT include VAT or any other duties that maty apply.
In most cases, any customs or import duties are charged once the delivery reaches its destination country. Customs policies and import duties vary widely from country to country - we would therefore not be able to advise on what these costs would be. Any charges on delivery are payable by the receiver. Please get in touch with your local customs office for current charges before you order.
RETURNS
You may return any unwanted items to BY ANABELLE within 14 days from receipt of goods in a written notice. Any returned items must be sent back to us at your own cost in their original condition with the original dust bag attached and in the original box. Items will be inspected upon arrival and returned to the sender if they do not meet these requirements. 
BY ANABELLE will not accept returns for any items worn or exposed to damaging elements and will be determined solely by A BY ANABELLE.
Returns that are soiled or damaged through wear and tear may not be accepted for a refund. Should an item be received by you in a damaged state, we ask you to contact us immediately. We strongly recommend that products are checked thoroughly before they are tried on, or any bags or packing are disposed of.
All shoes should be tried on a carpeted surface and kept in protective dust bags until you are sure you are keeping them.
For your protection, we recommend that any goods returned to us can be tracked and insured to their total value. In case of dispute, please obtain proof of delivery - BY ANABELLE does not accept responsibility for items lost in transit.
We will process your return and issue a refund within 14 days of your item(s) receipt. Please note that it may take several days before the money shows in your account - the processing time for refunds depends solely on the bank's policies, and we have no control over the speed of receipt. 
Please note: The customer takes entire liability for any parcels returned to us due to unpaid customs charges. Original shipping charges, return shipment costs, customs charges, and handling fees will all be deductible from any refund due.
BY ANABELLE is not obligated to issue any refunds if the goods are received later than 14 calendar days from the written communication of the cancellation of an order.
Please send all returns to:
ANABELLE TSITSIN LTD.
Rothschild Boulevard 74, 6578517
Tel Aviv, Israel
REFUSED DELIVERIES
If a delivery is refused by the receiver and returned to BY ANABELLE, any duties, taxes, postage or customs charges incurred will be deducted from the refund issued.
If the recipient refuses delivery of their order due to a customs charge your package will be considered abandoned and disposed of by the shipping carrier and therefore, your order is not eligible for a refund.
CUSTOMER SERVICES
For further help or enquiries, contact our customer care team at info@byanabelle.com.
Thank you,
BY ANABELLE team.
ישראל - מדיניות משלוחים והחזרות
משלוחים
לאחר קבלת ההזמנה ואישורה, החבילה תישלח אליך עד לפתח ביתך.
שליח עד פתח הבית ועד 3 ימי עסקים – ללא עלות
איסוף עצמי מהשוארום (שדרות רוטשילד 74 תל אביב, בניין בית מוזס, קומה 4) בתיאום מראש בטלפון 054-5404950
יום ביצוע ההזמנה, ערב חג, חג, שישי ושבת לא יחשבו בימי העסקים.
החלפות והחזרות
ניתן לבצע החלפה/החזרה של פריטים שלא ננעלו בצירוף הדאסט בגים בתוך האריזה המקורית ושלא נעשה בהם כל שינוי / נזק תוך 14 ימים ממועד קבלת המשלוח. 
* לא יינתנו החלפות / זיכויים על פריטים שנמכרו בסייל.
* לא יינתנו החלפות/זיכויים על פריטים שנעשו בשימוש לא סביר (שפשופים, שריטות, כתמים וכו')
החלפה/ החזרה באמצעות שליח עד הבית - ללא עלות
החלפה/החזרה באיסוף עצמי בתיאום מראש – ללא עלות
החזר כספי יינתן באמצעי תשלום בו בוצעה העסקה עד  14 ימי עסקים, מיום חזרת הפריט לשוארום בשדרות רוטשילד 74, תל אביב
 ניתן ליצור קשר עם שירות לקוחות בטלפון/וואטסאפ במספר טלפון: 054-5404950

* ההחזר הכספי יעובד תוך מקסימום 14 יום ממועד החזרת הפריט, אך ורק לכרטיס האשראי שממנו בוצעה ההזמנה. ההחזר יבוצע באותם תנאים של העסקה המקורית (כלומר: עסקה שבוצעה בתשלומים תזוכה במספר תשלומים תואם, ועסקה שחויבה בתשלום בודד תזוכה בתשלום אחד). אין צורך לפנות לחברת האשראי על מנת לבטל את העסקה – אנחנו כבר נטפל בזה בשבילכם.
ביטול עסקה
ביטול עסקה ומדיניות החזרת מוצרים
1. ביטול עסקה בהתאם לתקנות הגנת הצרכן (ביטול עסקה), התשע"א-2010 וחוק הגנת הצרכן, התשמ"א-1981
2. בידי המזמין (ולא הנמען) לבטל את ההזמנה שנעשתה בכל אחד מהמקרים ובתנאים שלהלן: כל זיכוי יועבר לכרטיס האשראי בו בוצעה ההזמנה בלבד, ובהתאם ללוחות הזמנים של חברת האשראי.
* ביטול ההזמנה לפני שליחת החבילה ללקוח לא יגרור חיוב נוסף, ויוחזרו ללקוח הכספים ששילם בגין העסקה כולל דמי המשלוח. זיכוי כספי יינתן עפ״י האמור בחוק.
* במקרה של ביטול עסקה לאחר שנשלח המוצר אל המזמין ולאחר קבלת הסחורה במחסני החברה, יינתן זיכוי כספי מלא. התשלום עבור המשלוח ינוכה מסך הזיכוי. הזיכוי יינתן בתנאי שהמוצר יוחזר ללא שימוש ו/או פגם ו/או נזק – בתוך הקופסא המקורית שלו עם הדאסט-בגים עליו כפי שהתקבל. במידה והמוצר הוחזר שלא כאמור בסעיף זה, לא יזוכה המזמין (לא זיכוי כספי ולא שובר זיכוי).
* החברה היא בעלת שיקול הדעת הבלעדי בעניין מצב הסחורה שהוחזרה.
* ניתן להחזיר את המוצר - שלא נעשה בו שימוש, באריזתו המקורית, כאשר הדאסט-בגים נמצאים באריזה - תוך 14 יום מקבלתו.
* זכאות לזיכוי כספי מותנית בזמן של עד חודש (לכל המאוחר) מיום ביצוע העסקה באשראי או חשבון PayPal.
3. לא יינתן זיכוי כספי בגין מוצרים שלא שולמה בגינם תמורה כספית, כגון מבצעים (סייל) או מתנות.
4. אופן החזרת המוצרים - קיימות שתי דרכים בהן הלקוח יכול להחזיר את המוצרים שהוזמנו: דרך האתר, באמצעות שליחת המוצר חזרה בדואר, מוצרים אלו גם ניתנים להחלפה, זאת במידה ומדובר בהחלפת אותו פריט לצבע או מידה שונים.
5. לא ניתן לזכות כרטיסי דיירקט, ולכן בעלי כרטיסי דיירקט זכאים לקבלת קרדיט באתר בלבד.
לפרטים נוספים מוזמנים ליצור עמנו קשר במייל info@byanabelle.com או בטלפון 054-5404950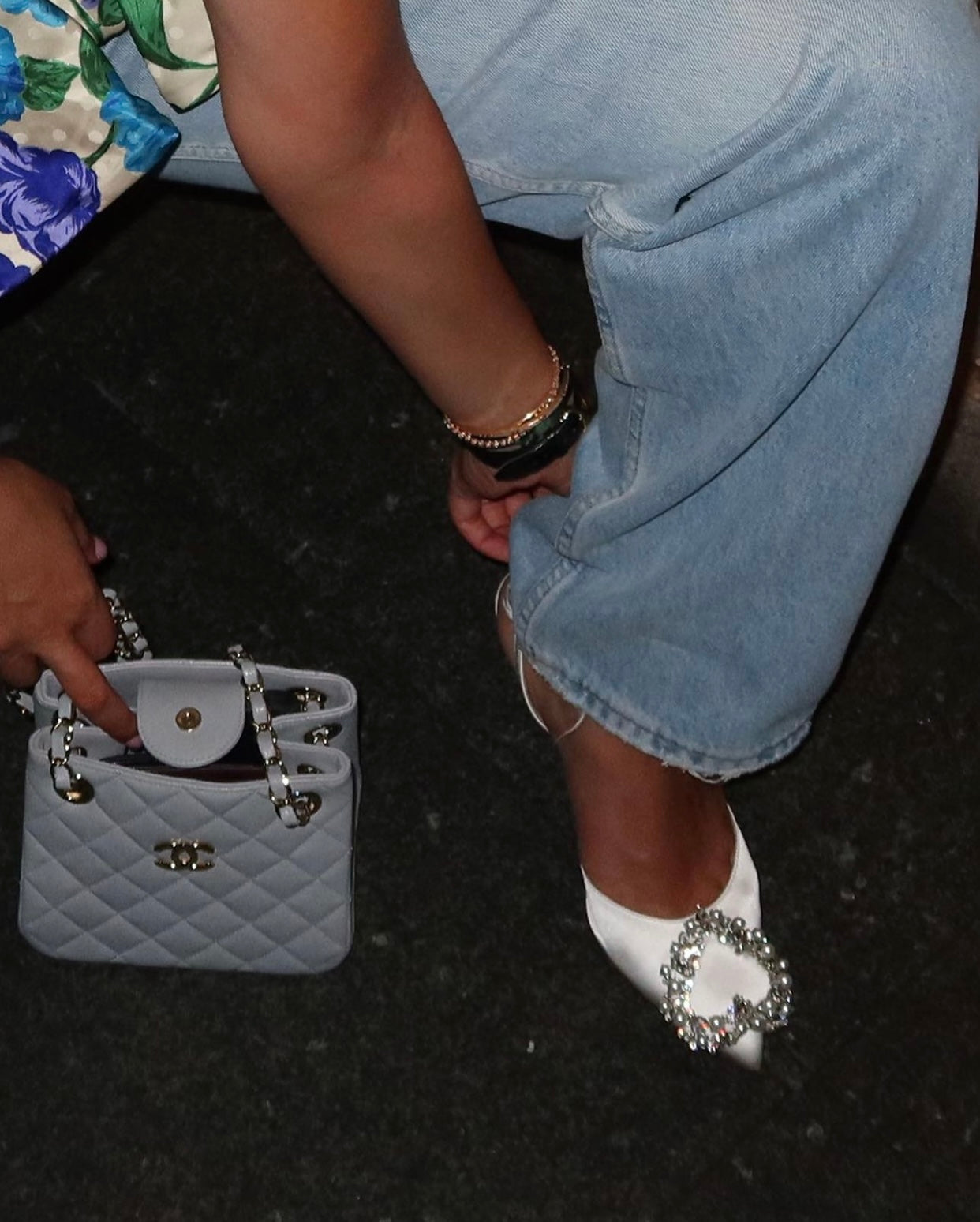 HELLO LONDON
We are happy to announce BY ANABELLE is finally landing in London.
We now offer personal appointments with clients where you can see, feel and try on your dream pair and get to know the brand a bit more.

To book your appointment, email us at info@byanabelle.com or contact us at +44-7786506478.